EA Pip Scalper Updated Version
There is no denying the fact that the recently release EA Pip Scalper is one of the best Forex autotraders out there. People really seem to love this particular automated Forex trading software, and this is true for a variety of reasons. For one, the app is extremely easy to use and super user friendly. Remember, although pro traders can definitely use it to make a profit, the EA Pip Scalper is designed so that even people with zero prior experience in Forex can make a profit.
Moreover, as you may have gathered from previous reviews about this Forex autotrader, it is indeed very profitable. It uses advanced signal generating algorithms to find the best signals to trade with, and it then opens and closes trades on its own. With the EA Pip Scalper, without really having to do any work at all, you stand to make hundreds or even thousands of dollars per day.
Now, with all of that being said, the EA Pip Scalper app has had some issues and minor problems that could do with improvement. Well, we are happy to announce that there is already a new and updated version of this software out, one that has solved a variety of issues and has made trading even easier than before. Let's take a closer look at this EA Pip Scalper Updated version to see what it is all about.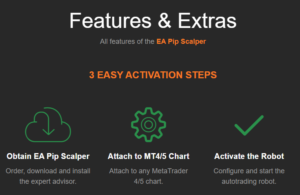 EA Pip Scalper Updates
There are a variety of things about the EA Scalper that have been updated, upgraded, and improved, so let's take a look.
Updated File Names
One of the updates that has been made has to do with the file names. When you download the EA Pip Scalper, you will get two files. One of these files is to be used with the MetaTrader 4 platform, and the other is to be used with the MetaTrader 5 platform.
Before these updates were made, finding the correct file for the appropriate platform was not easy. However, the files have now been named "EAPipScalperMT4-v1.1.0.ex4" and "EAPipScalperMT5-v1.1.0.ex5", so you can easily identify which one is the right one for you to use.
New Automatic Number Feature
Another important EA Scalper update to talk about is the new Magic Number generation feature. For those of you who don't know, when you trade, each Forex pair is assigned a 6 digit numerical code. The important thing to note here is that expert advisors such as the Pip Scalper keep track of each open trade by assigning it one of these so called magic numbers.
Now, with this new feature, the EA Pip Scalper automatically and efficiently assigns each Forex pair with a unique number. This makes it easier for the app itself to keep track of trades, and it makes it much easier for users to keep track of trades as well. This is a big time upgrade, one that we definitely appreciate.
Each Forex pairing will be assigned a so called magic number based on the assets being traded, and not the timeframes. However, don't worry, because if need be, you can turn this feature off, which will therefore allow you to manually manage these magic numbers, such as if you want to assign each pairing a number based on the timeframe which they are being traded within.
Improved License Verification Functionality
Yet another EA Pip Scalper update that has been made has to do with the license verification process. Specifically, MetaTrader 5 seems to be giving people problems when it comes to verifying the license for this particular autotrader. The Web Request function seems to get blocked at random times and without any real reason.
However, the EA Pip Scalper has now introduced local license tokens to the mix. Tokens are saved locally after successful remote license verification and are used for faster EA activation. The real issue was that people using certain brokers could not activate their version of this autotrader. However, this license verification security issue has no been patched, and should no longer be a problem.
Updated Error Alerts
Another issue that this Forex autotrader was experiencing before this update was introduced was that in the event of an error, the error alerts and messages were very unclear. If you got an error alert, you probably couldn't figure out exactly what the problem was.
However, these error alerts and messages have been updated and improved so that the error version and the exact problem are all made very clear. It's just another update that has made the EA Scalper just that much more user friendly.
Updated Version String
The other EA Scalper update that needs mentioning is the updated version string 1.1.0. The important thing to note here is that thanks to this new version string, the bot now performs even better than it did before. Yes, this Forex autotrader was already very accurate before this update, but now even more so.
The bot places much more accurate trades with more accurate signals, and it has a much sharper stop loss function too. The biggest benefit of all is that the EA Pip Scalper bot now shows greatly increased functionality and accuracy when trading in trending and ranging markets. Simply put, this latest update has made the EA Pip Scalper Forex autotrader much more profitable than before.
EA Pip Scalper Updated Version – Final Thoughts
As you can see, there have been several updates made to the EA Pip Scalper that have greatly improved its overall functionality and ease of use. These updates have made this Forex trading app much easier to install, much more reliable, and much more user friendly as well.
Remember folks, at this time, the EA Pip Scalper is one of the highest performing Forex autotraders out there. It has the ability to execute highly profitable trades on all Forex currency pairs out there, especially if you use the custom settings that can be downloaded from the main site.
CLICK ON IMAGE BELOW TO SIGN UP