How to Set Up Triumph Scalper Software
If you have not yet heard of the triumph scalper trading system, we definitely recommend that you check it out. We've got some other great reviews for you to read about this particular piece of trading software. Now for those of you who don't know what this new triumph scalper trading program is, this is a system that can provide you with daily signals for you to trade with. To be specific, this is a trading program designed to provide you with profitable buy and sell signals for forex currency pairs.
As you might know, the Forex market is currently the market that is traded on the most and also sees the most liquidity. This high level of trading volume and liquidity allows traders like you to make big time profits. That being said, if you don't know what you are doing, then trading Forex is definitely not easy.
An awesome indicator like this Triumph scalper application can definitely help put money in your pocket. When it comes to profitable Forex signals for you to trade with, this is indeed one of the most accurate applications out there at this time. It uses a series of highly advanced algorithms and market research techniques to find the very best forex signals for you to trade with.
With that being said, before you can actually start trading with this particular piece of software, you do first need to activate and install it. Now this should really be quite easy, but there are some small details that you need to be aware of. To ensure that you can get your copy of the Triumph scalper system up and running in no time at all, we are here to provide you with a detailed installation guide. Let's get to it and provide you with step by step instructions on how to activate and install Triumph Scalper trading software.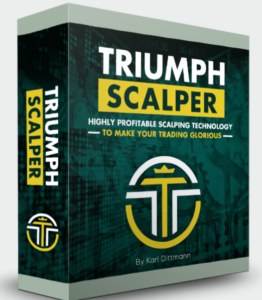 Triumph Scalper System Activation
Before you can get started with activating the Triumph scalper system, you do of course, first need to purchase your copy and downloaded from the official website. In case you would like to download it, we have included the links to the official website at the top and bottom up this article. In order to start trading with this app, you will first need to activate it with your copy of the purchase invoice. To get your copy of this software up and running, refer to the instructions as outlined below. Beware that this trading indicator for Forex only works with the Meta Trader 4 Trading Platform.
Download and install the Meta Trader 4 Trading platform onto your computer.

Open up the Meta Trader 4 platform. You need to write down your trading account number in the upper left corner of the Meta Trader 4 platform window (write it down on some paper).

This is also the perfect time to open up and activate a brokers account. You will need to attach the brokers account to your meta Trader 4 trading platform.

You now need to.to write down your invoice ID, the receipt number, the order ID, or the transaction number. As you will see, the order ID is an 8 digit letter and numerical combination that is listed on your receipt. You require this to activate your Triumph scalper trading system.

You now need to go to license.karldittman.com. Click on "register product license".

You will now have to enter the invoice ID, the receipt number, the order ID, or the transaction number as indicated.

At this point you need to create your own password. Click on create account.

At this point, all you have to do is enter your trading account number (found in the upper left hand corner of the MT4 window).
On a side note, when it comes to the account number, you can change it if needed. To do so, simply go back to www.license.karldittman.com and select the option that allows you to change the account number. Just beware that you only have two attempts. If you go over the limit, you will need to contact support.
Installing The Scalper
Once you have activated your copy of the Triumph scalper trading system, you then need to install it onto the Meta Trader 4 trading platform. Once it is installed onto the platform, you will then be able to start trading for it and hopefully start making money. We have provided a detailed list of instructions below on exactly how to get this done.
Unzip the file that you have just downloaded (save it to a location that is easy to fin). The file name that you are looking for is TriumphScalper.ex4.

Open up your Meta Trader 4 platform.

Click on file. Open the data folder. Here you will see a folder named MQL4. Open the MQL4 folder. Inside of this folder, you will find the indicators folder. Copy the Triumph Scalper file into this MQL4 indicators folder. Just right click on the file and then copy and paste it into the folder (dragging and dropping works too).

Restart the MetaTrader 4 trading platform.

Open the MetaTrader 4 platform. Click on view and go to the navigator.

You will see a window called Navigator appear on the screen. Double click on the folder that says indicators. You should now see Triumph Scalper listed in the indicators folder.

Drag and drop the Triumph Scalper onto the chart.

Once the Triumph Scalper has been attached to the chart, make sure to enable two settings, called allow DLL imports and allow external experts imports.

Your copy of the Triumph scalper trading system is now ready to for you to start making money with.
Triumph Scalper Setup – Final Thoughts
Now that you have activated, installed and set up the triumph scalper trading application, you could start making money with it. We recommend reading our other reviews, especially the one that provides you with a variety of tips and rules to follow when trading with the Triumph Scalper system. If you want to trade forex but don't know what you are doing, this is the perfect tool that will hold your hand for the whole journey.