How to Start Forex Trading with $500
If you are wondering how to engage in Forex trading with just $500, or another such small amount, you have come to the right place. Although not easy, it's also not impossible to be successful when starting out with limited funds for investing and trading. Right now, let's go over the most crucial tips on how to start Forex trading with $500.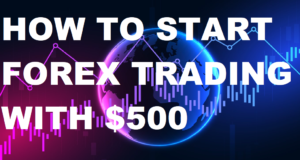 Focus on Major Pairs for Forex Trading
One of the biggest tips that you need to follow when it comes to Forex trading with a $500 account is that you need to focus on the major currency pairs. The point here is that the major currency pairs tend to be the safest to trade with, and most of this has to do with predictability.
The major currency pairs are much easier to analyze and to examine, and it's much easier to predict in what direction they will move. Pairs such as GBP/USD, USD/CAD, EUR/USD, USD/AUD, USD/JPY, and USD/CHF are all relatively safe bets.
However, you definitely want to stay away from the exotic currency pairs, which more or less entails everything but the pairings we just mentioned. The exotic Forex pairs are just too hard to predict and often move in unforeseen ways that can end up costing you a whole lot of money.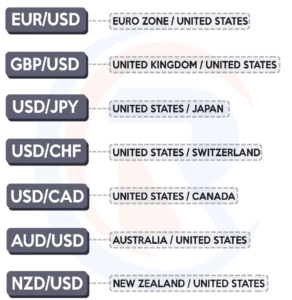 Look for the Big Movers
Something else that you need to do if you are Forex trading with a small account is to use a Forex screener to look for the big movers. In other words, you want to look for pairs that have relatively high volatility levels, particularly for those major currency pairs.
Higher volatility means that the pairs in question will be big movers, or in other words, the prices can fluctuate by quite a bit, thus allowing for higher profits in a limited amount of time.
However, you do need to be careful, because volatile currency pairs can move both ways, and of course, when it comes to placing trades, you need them to move in the right direction according to your position. The bottom line here is that using a Forex screener will come in really handy.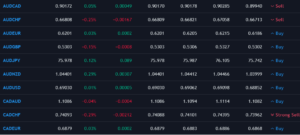 Always Use an Economic Calendar
Although this is a rule that applies to all Forex traders, it is even more important for newbies trading Forex with small accounts. If you are trading Forex with something like $500, you need to be really careful. A good way to manage risk and to find out which pairs you should trade with for the day is by using an economic calendar, such as from investing.com.
These economic calendars are important for identifying currencies that will feature a major or 3 bull news release for the day. Simply put, if you want to be safe and you don't want your whole trading account being wiped out in a few trades, avoid trading any currencies which are displaying 3 bull news.
Pay Attention to Live Discussions on Forex Trading
Something else that you can do when Forex trading with a small account is to go to live forums and pay attention to live discussions. These live Forex forums feature hundreds, if not thousands and thousands of people carrying on live discussions about the state of the market and the specific trades which they are executing. As a newbie trader, getting up to date information and advice from professional traders can go a long way in reducing your own risk and increasing your profits.
The 1% Risk Rule
Ok, so many traders will trade with upwards of 5% of their total capital per trade. If you have only $500, this means that you would invest $25 per trade. Now, this is Ok if you have a lot of cash to spare, but if you only have $500, a few bad trades can put a real hurt on your account.
Therefore, you may want to consider Forex trading with a much lower risk rate per trade. In other words, try investing only 1% or 2% of your total capital per trade. This way, you stand a decent chance of making profits, and if you happen to lose some trades, at least you won't wipe out your account in one go.
Leveraging Trades
If you are trading Forex with $500, give or take, you obviously don't have that much investment power due to limited capital. This is why many traders leverage their trades. For instance, you could leverage a trade by a factor of 10:1.
This means that you could place a trade for $1,000, but only have to front $100 for it. If you win, you stand to make 10x the amount of profit with that same $100. However, remember that if the trade goes south, you are on the hook for the full leveraged amount. This is a great way to quickly increase the value of your account, albeit, it's also super risky.
Use Ideal Stop Loss levels
Something else to keep in mind when Forex trading with small accounts is that you always need to use stop loss levels. Stop loss orders prevent you from losing a full investment when a trade goes south. For instance, if you invest $50, you can set a stop loss so that if the value of your investment drops below, say $40, the position will close on its own, thus saving the remaining $40 from being lost. Set your stop loss level so you never lose more than 10% or 20% of the initial investment, at most.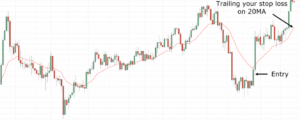 Learn a Strategy & Stick to it
Something you definitely want to do when it comes to Forex trading with a small account, something like $500, is to get yourself an education, learn a decent strategy, and stick to it. Folks, you don't have to reinvent the wheel here. Simply find an easy trading method with proven results, do your best to master it, and have at it. If it doesn't work at first, evaluate your plan, and then go from there.
Starting Forex Trading with $500 – Final Thoughts
The bottom line is that Forex trading with $500 won't be easy. However, as you win trades and you increase the total value of your account, you will get more breathing room to work with. For more information on how to get started, check out our piece on Forex Trading Strategies for Beginners.