Hugo's Way Broker Review: A Good Deal?
Hugo's Way is a relatively new broker that has already made a huge impact on the trading community. To help you decide whether or not this broker is right for you, we will be doing an in depth Hugo's Way review right now.
Hugo's Way Institutional Grade Liquidity
Something that you might appreciate about this Hugo's Way broker is that it features amazing institutional grade liquidity from the world's top banks. This means that this broker uses only the deepest of liquidity that is sourced from pools of top investment banks.
 This makes sure that all clients of Hugo's Way have access to the best possible trading positions. It also helps to ensure that the rates on the markets for all traders are as low as possible.
Using this kind of institutional great liquidity also ensures that orders are filled straight away without any time delays. It also means that you can trade using very tight spreads, that start at just 0.0 pips. All trades are processed directly through the ECN trading environment. It's all about fast, reliable, and low cost trading.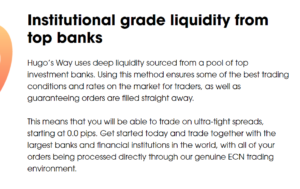 Tier One Banking & Segregated Client Funds
You might also like how this particular broker uses segregated client funds. If you want, you can deposit money into this broker for trading, and you can hold onto it yourself or have this broker hold onto it for you.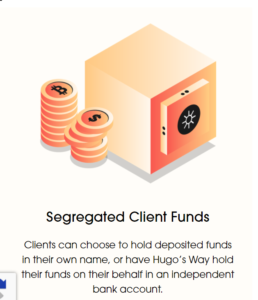 Yes you can hold onto your own money, but you can also have this broker hold onto your funds for you, and all funds are held in independent bank account. Its broker also only uses tier one banking. Hugo's Way works extremely closely with all of its service providers to help ensure that both deposits and withdrawals are fast, flawless, and always reliable.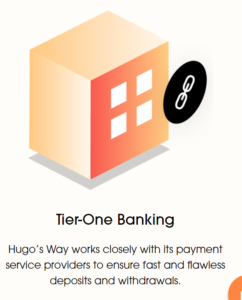 STP Execution
Yet another thing that stands out about this Hugo's Way broker is the fact that it uses straight through processing execution, also known as an STP execution model. This means that whenever a trade is placed with this broker, you won't have to deal with any desk manipulation, repainting, or requotes.
CLICK ON IMAGE TO GET CRYPTO SIGNALS!
It all has to do with reliability, and it helps to ensure that there are no conflicts of interest. All executed trades are processed through the Hugo's Way aggregator, and this helps to ensure that you always get the best rates.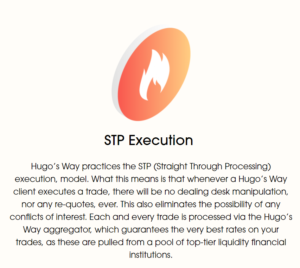 Great Risk Management
Yet another aspect of this broker that you might appreciate is the fact that it does really well in terms of risk management. He goes way consistently monitors, analyzes, in points, and regulates all of the different types of risks that are associated with its day-to-day operations.
When it comes to overall security, safety, and reliability, this is hands down one of the best brokers in the world. It's all about being safe, reliable, and efficient.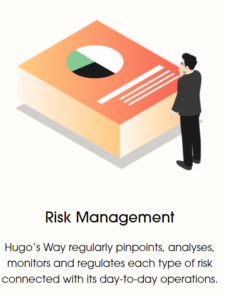 Using MetaTrader 4
Yet another thing about this particular broker that you might really like is the fact that it only uses the MetaTrader4 trading platform. In case you don't know about this trading platform, MetaTrader4 is one of the most popular trading platforms in the world. Most people would actually say that it is by far the best trading platform in the world.
Over the past decade, it has received an extreme amount of awards. In terms of award winning trading platforms, it is currently the most popular and highest award winning trading platform out there. This particular trading platform is extremely easy for beginners to use. Moreover, it also allows for a completely automated trading, manual trading, and social trading too.

Hugo's Way Trading Assets
What really stands out about this particular broker is the fact that it is extremely versatile in terms of the types of assets that it allows you to trade. When it comes down to it, this broker allows you to trade virtually every type of market asset out there.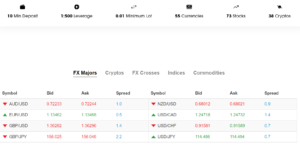 This includes well over 55 different currencies, and this includes all types of currency pairs, as well as 38 different cryptocurrencies, 73 different stocks, as well as a great number of both commodities and indices when it comes to variety in trading, this is hands down one of the best brokers out there.
What is also worth mentioning is that trades can be leveraged by up to a factor of 500, and there is a lot size of 0.01 set as the minimum for all trades. When it comes to trading features and assets that can be traded with, Hugo's Way is definitely one of the best in the world.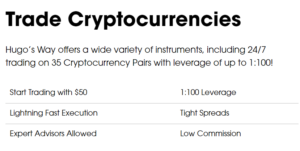 A Great Affiliate Program
Yet another thing that you will appreciate about this particular broker is that it comes complete with a legitimate affiliate program. This works by allowing you to refer your friends and family to this broker. Then, whenever your referrals trade using this broker, you get a little bit of money for your troubles.
What also stands out is that this is actually a multi level affiliate program. This means that your referrals can also refer people, and you make money from both sets. In fact, this referral program features five different levels. This Hugo's Way affiliate program is one of the best out there as far as brokers are concerned.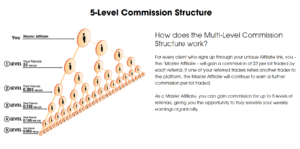 Hugo's Way Demo Trading
For all of you newbie traders out there, what stands out about this broker is that it also comes complete with a demo account. Demo accounts allow you to train using real market conditions, but without having to risk real money.
This will therefore allow you to crack this all of your trading strategies and skills, and to gain the confidence you need to start trading with real money. These demo accounts are completely free to use, and they will help prepare you for real trading with real money. It's also a great way to familiarize yourself with this broker.
CLICK ON IMAGE TO OPEN A DEMO ACCOUNT WITH HUGO'S WAY
Amazing Client Support
The final thing that we want to mention here is the fact that this broker comes complete with 24/7 support. This means that whenever you have any kind of issue, there will always be dedicated and helpful staff on here to help solve your problems.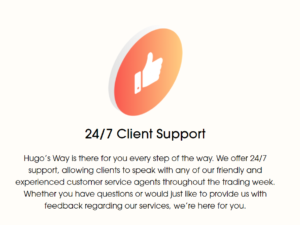 Hugo's Way Review – The Bottom Line
The bottom line here is that if you need a great online broker for all of your trading needs, we do recommend checking out Hugo's Way.
CLICK ON IMAGE BELOW TO JOIN HUGO'S WAY
For more trading tips, strategies, methods, and everything in between, check out Andrew's Trading Channel. Here you will find the world's best stock market trading school, a trusted day trading school, state of the art indicators and trading tools, Forex and crypto signals groups, and more!