IMB Forex Signals Service Weekly Update
If you are just getting into Forex trading, but don't know what you are doing, then using something like the Income Mentor Box Forex Signals service is certainly recommended. If you have no idea what this is, let us explain, both what a Forex Signals service is and what the one from Income Mentor Box Entails. We also want to talk about just how profitable the IMB Forex signals service is, and we'll be using the trades from last week on November 11 as our main example.

What Are Forex Signals?
If you are somebody who has never traded Forex before, something you need to be aware of is that it's not easy. If you don't have the right tools, skills, knowledge, and training, then you're going to end up losing a lot of money. Although the Forex market features the most liquidity and the highest trading volume, if you don't take your time and trade properly, you're going to lose it all.
Well, this is where something like the Income Mentor Box Forex signals service comes into play. So, what are Forex signals? Well, Forex signals are very well researched trading ideas that are provided to you through some sort of messaging application.
For instance, you'll be provided with a currency pair, such as USD/CAD, along with the direction to trade in, so buy or sell, as well as the entry price to enter the trade at, take profit levels to close the trade once a certain profit level has been reached, and a stop loss level that forces a trade to close in the event that it starts losing money.
In other words, something like the Income Mentor Box Forex signals service provides you with a relatively safe and reliable way to trade currency pairs, all without having to do any analysis or market research. Forex signals, as long as they are accurate and reliable, are amazing tools for anybody to use.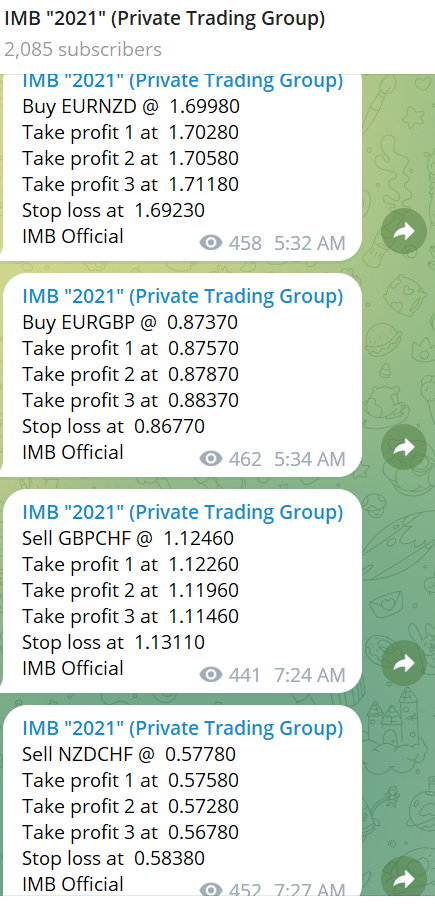 IMB Forex Signals Profits – Week of November 11
The main thing that we are here to do today is to take a look at the results produced by trading with Income Mentor Box Forex signals. We want to take a look at the four currency signals provided last Friday, on November 11. The reason we want to do this is to prove to all of the naysayers out there that this signals service for Forex currency pairs does actually work.
So, last Friday, there were four signals released. Now, beware that this is not typical of this service, as usually there will be two or three times as many signals, up to 12 per day. However, it's really more about quality than quantity, which is important, because all four of those signals ended up being winning trades.
Yes, out of 4 signals provided, all 4 ended up being winners, which is a 100% win rate. Now, this is not overly typical of the IMB forex signals service, as the win rate is usually closer to 90% or 95%. 100% is rare, but it does happen. Anyway, let's take a quick look at these winning Forex signals. These signals were for EURNZD, EURGBP, GBPCHF, and NZDCHF.
The EUR/NZD trade profited by 30 pips, the EURGBP trade profited by 20 pips, the GBPCHF trade profited by 100 pips, and the NZDCHF trade profited by 20 pips. That's a whole lot of pips, and if you had used these signals, those would be your profits.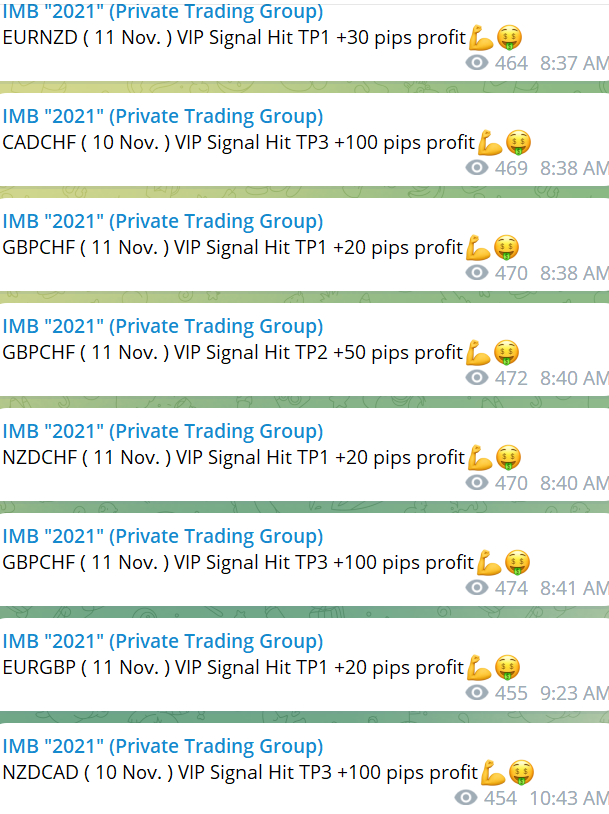 The IMB FX Signals Service – Important Points to Note
There are a few other important points to take note of when it comes to the Income Mentor Box Forex Signals service, as well as the trading academy itself.
If you are wondering how much it costs to join this signals service, technically speaking, the signals service itself is free. This is because it comes included for free with your membership in the Income Mentor Box Day Trading Academy. Membership in the academy is $299, and this provides you with full, lifetime, and unlimited access to all course content. With your membership, you also get full and unlimited access to the IMB Forex signals service.
Included with your membership in Income Mentor Box, you also get an Ebook that introduces you to the world of Forex trading, as well as a state-of-the-art indicator that can provide you with great buy and sell signals. Of course, you also get access to the signals service.
What is also worth noting is that Income Mentor Box is regarded as being one of the best Day trading schools in the world, particularly for aspiring Forex traders. It comes complete with a full 60 lesson curriculum that is structured in such a way that makes it easy for newbies to learn Forex, crypto, and stock trading from the ground up. If you need to learn everything there is to know about trading, so you can make profits without the help of other people or tools, then learning from Income Mentor Box is the way to go.
The other thing worth noting here is that all signals that you get are sent to you over the Telegram messenger app, which is free to sign up for, download, and use. Yes, this messenger has a mobile version too, so you can still get your Income Mentor Box Forex signals no matter where you go.

Trading with IMB Forex Signals – The Bottom Line
At the end of the day, if you need a reliable way to trade Forex, then using the Forex signals as provided by Income Mentor Box is the best way to do so.
With a user-friendly delivery system, all of the information you need to place trades without doing any of the hard work, and signals that are accurate the vast majority of the time, you really can't go wrong.
Don't forget that if you need to learn how to trade Forex so you can be a self-sufficient trader, then joining the Income Mentor Box Day Trading Academy is a good idea anyway.
CLICK BELOW TO JOIN INCOME MENTOR BOX AND START MAKING REAL PROFITS!