Instaforex Forex Broker Review
As a newbie traders, something that you might not know is that having the right broker in your corner is extremely important. Having a broker that doesn't charge huge commissions allows you to trade various assets, provides good leverage ratios, and more, is all very important. Of course there is also the fact that there are tons of scam brokers out there that want nothing more than to steal your money. Well, today we're here to talk about one specific broker known as Instaforex. At this time, this is one of the most reputable and trusted brokers out there.
Don't worry because you don't have to take our word for it. We have plenty of evidence that we will present below that proves, without a shadow of a doubt, that this Instaforex broker is indeed the real deal. Today we're here to do an Instaforex review to find out exactly what it is all about and how it can help you make money through Forex trading and other types of trading. Let's get through it and find out why this broker is this popular and widely used as it is.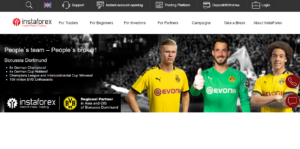 What Exactly is Instaforex?
Just in case you are not sure Instaforex is primarily a Forex broker. Now, with that being said, this is not only a Forex broker because it also allows you to trade a variety of other asset types on a variety of markets. But that said, it is primarily designed for Forex trading.
What you do need to be aware of, however, is that this is not actually a trading platform, but rather just a broker. This means that you do need to use a compatible trading platform in combination with this broker in order to trade. In fact, the best platform to use in combination with this broker is Meta Trader 4.
Now, this instant Forex broker is more than just a broker because it does also serve as the signals provider. Or in other words, it provides you with easy to use trading signals that you can just copy and paste in order to make profits.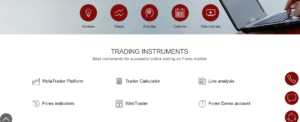 Official Partners
One of the pieces of evidence that we want to provide you with that proves that instaforex is indeed the real deal is that it has many professional partners.
This broker has a few official business partners that are indeed real with one of the main ones being Dragon Racing and this is a world famous racing team that is in partnership with this broker.
What is also quite impressive is that this broker, or at least the company behind it, has its only rally car racing team that is currently in the Dakar Rally race. This particular broker also has a few other spokesman, mainly Vladimir Moravchik, a world famous Muay Thai champion who has one various events.

Registration & Licensing
Of course, the fact that Instaforex has official partners and business relations does not mean that it is not a scam. However, something that does prove that it is not a scam is that this company is fully registered, licensed and regulated as a broker should be.
Instaforex is licensed by BVI FSC, with the license number SIBA/L/14/1082. Moreover, Insta Service LTD is registered with reg number IBC22945 with FSC Saint Vincent. Now these are not just random numbers. This is actual information that you can go look up for yourself, thus confirming that this broker is legit, not just some scam.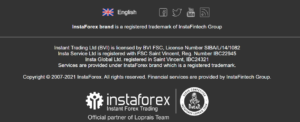 Instaforex Awards
Something else that proves just how good and legit this particular broker is, is the fact that it has received well over a dozen different awards and accolades over the past decade, all of which show just how amazing it really is.
Just some of the awards that Instaforex has gotten over the past years include Best Forex Copy Trading Platform 2017, Best ECN Broker 2017, Most Active Broker in Asia 2020, Best Affiliate Program 2020, Best Forex Broker Eastern Europe 2019, Best Forex Broker Central and Eastern Europe 2020, and more. There are actually many other awards which this broker has received, but you get the picture.

Instaforex Trading Assets
One of the things that you probably want to know about this particular Forex broker is what you can actually trade with it. Now first and foremost, as you have probably been able to guess by now, this is primarily a Forex broker and when it comes to trading foreign currencies there are well over 100 different forex instruments that can be traded with.
However, that is not all because with this broker you can also trade various cryptocurrencies such as Bitcoin and Ethereum.
Moreover, you can also trade almost 100 different CFD's on U.S. stocks as well as CFD's on futures. There are even contracts on gold and silver that can be traded and digital options can be traded here as well. As you can see, this really is a one stop shop for all of your trading needs.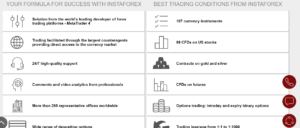 Account Types
What's also really cool about this instaforex broker is the fact that there are two main account types that you can open.
There is one basic account, also known as the traders account, which is designed for people who want to manually trade forex pairs and other assets at will. This particular trading account comes with well over 300 different trading assets and instruments as well as the ability to leverage trades by up to 1000 times.
Now there is also a second account type known as an investment account which involves you investing money into other profitable traders instead of into actual currencies. This way you don't actually have to trade yourself, but you can still make up to 1000% profits every year. This is a passive income account, so it's more like investing than it is trading something that is ideal for people who just don't have much time to spare.
Other Things You Get
Trading advisors

Trading charts

Trading analytics

Video tutorials

Economic calendars

Market news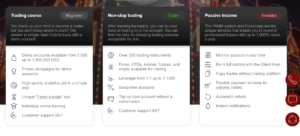 We do also want to note that Instaforex does also offer a demo account for those who have never traded before or who have never used a broker before. This demo account allows you to trade under real market conditions, but does not force you to risk your real money. It's a great way to test out the broker itself as well as your trading skills without having to risk real capital.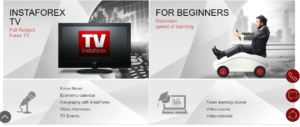 Instaforex Broker Review – Final Thoughts
The bottom line here is that if you need a great Forex broker that can provide you with trading signals and allows you to trade on more or less any market out there, then Instaforex is definitely one of the best ones for you to check out.