My Journey to Becoming a Profitable Trader
Hey guys and gals, my name is Scott Daniels, and before I became a profitable trader, I was a full time chef. I didn't mind being a chef too much, but it just wasn't right for me, especially because I never got to spend time with my family.
I was an executive chef at a five star French bistro, and yeah, I was earning decent money. However, I was working over 90 hours per week, cooking food for people who weren't grateful in the least. Compared to how much work I had, and how much time I got to spend with my family, none, the money just wasn't worth it. And let's face it, it's not like I was making a fortune anyway.
I just wasn't happy with the fact that I wasn't making nearly enough money compared to how hard my life had become. For this reason, I decided to look for something more in life, a career or job that would let me earn more than enough money to support my family of four, pay my mortgage, and feed my pets, all without having to slave away in a hot kitchen for over 12 hours, 7 days a week.
For this reason, I started looking into trading, specifically into Forex and stock market trading. From a few friends that I have, I heard that making a full time living trading for just 20 or 30 hours per week is more than possible. This is something that sounded fantastic to me, being able to trade from the comfort of my own home, being able to make more than a decent living, and being able to spend ample time with my family. Let me tell you about me journey to becoming a profitable trader.
Hey Guys, I'm Scott Daniels

My First Trades
When I first tried trading, I figured it was something that I could just practice a little bit and pick up in a few days. Boy was I ever wrong. Trading Forex and stocks isn't like riding a bike or tying your shoes. It's not something that you can just learn in 15 minutes and master within the hour. I figured this out the really hard way.
I started trading and invested $2,000 into some trades, and they all went south. I had absolutely no idea what I was doing, and it showed, because out of 5 trades, I lost them all. For this reason, I figured that it would probably be a good idea to get an education and to take a trading course. If I was to become a profitable trader, I would need to have somebody teach me how to do so.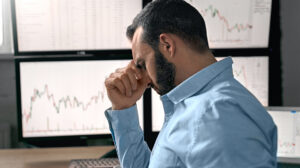 The Start to Becoming a Profitable Trader – A Total Bust!
When I first started learning to trader, I joined some second-rate two-bit trading course. This cost me more than $1,000, and the course lasted for a month. It consisted of three lesson per week, two hours each. One of the biggest problems here was that the lessons were held at set times.
It was actually really difficult to attend the lesson while also working and taking care of my kids. Even worse, if I missed a lesson, which happened twice, there was no way to retake it without paying. Moreover, the lessons themselves were also not well structured or organized. They seemed like a random amalgamation of facts and terms.
There was no clear structure, nothing that would help a newbie like me, who knew nothing at all, start from the ground up and then build upon that knowledge. The lessons were just really bad, and worst of all, the teacher was bad too. It was like a monotonous robot reading a script without a care in the world. The lesson were dull, boring, and overly complicated. Needles to say, I spent a ton of cash on trading lessons that had me confused, bored, and frustrated.
I even tried trading a little bit using the info I learned in this course, which was next to nothing, and as expected, it didn't go well. I won just 2 out of 10 trades I placed. At this point, I was just confused, frustrated, and ready to give up, that is until I came across Andrew and the Income Mentor Box Day Trading Academy.
Becoming a Profitable Trader with Income Mentor Box
When I first thought about joining Income Mentor Box, I was admittedly a bit hesitant to spend another $299. However, it's the best three hundred dollars I ever spent. First and foremost, this is a 50 lesson trading course, with a super comprehensive curriculum. I really appreciated how this course was very well structured in the sense that it started out with the basics and then slowly progressed to the more complex aspects of trading.
All of the lessons themselves were also well organized. Andrew did a great job at creating all of these lessons in a way that newbies like me could easily follow along. His verbal, visual, and live trading examples were super easy to understand. It was truly perfect for a newbie like me.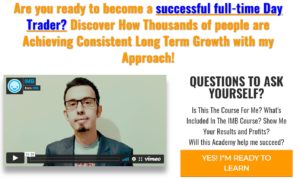 Moreover, the curriculum is super comprehensive, and I was really happy with the tools and skills that I gained from Income Mentor Box. What also stood out here is how it allowed me to learn on my own time. All IMB course content is always available. With that onetime payment, I gained full and lifetime access to all course content.
Heck, even now, a full year after I completed the course, I could still go back and look at all of the lessons, just in case I need a refresher on a certain topic. It took me under two months to master all of the skills taught within those 50 lessons, and thus I was well on my way to becoming a profitable trader. So, what does life look like now for me a full year after having completed the course?
The other thing that I really like about Income Mentor Box was that it also came with a free Forex signals service. This way, as I was still learning how to trade, I was able to copy and paste these signals to make easy profits. I didn't think that this signals service would be so profitable, but it actually allowed me to win well over 90% of the trades I placed using these signals.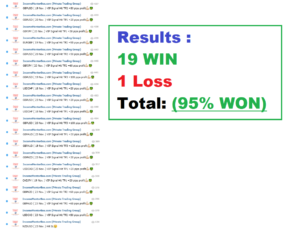 Life as a Winning Trader
I have to say that spending $299 on the Income Mentor Box Day Trading Academy was by far the smartest decision I've ever made. Now, I am at the point where although I still lose some trades, and even have losing days, in the grand scheme of things, on a weekly basis, I am making money, more than enough of it.
I am actually making more money trading 30 hours per week than I was working in a kitchen for 90 hours per week, up to three or even four times as much.
I make a full time living working what is essentially part time. I now win up to 90% of the trades I place, at least 70%, and this allows me to fully support myself and my family, and then some. We're actually going on vacation for two weeks for the first time in 10 years! I really couldn't be any happier with where I am at in life now. I enjoy being a profitable trader very much, and it's all thanks to Income Mentor Box.
CLICK BELOW TO JOIN INCOME MENTOR BOX AND START MAKING REAL PROFITS!