Profiting with IMB Trading Signals
If you want to really start profiting trading forex, cryptocurrencies, and even the stock market, then it's time to switch your strategy. The simple reality is that if you don't know what you are doing, the best way to make money in the market is by using trading signals, such as the ones provided by Income Mentor Box. Income Mentor Box has its own trading signals service for forex, cryptocurrency, and the stock market.
For those of you who don't know what Income Mentor Box is, this is a state-of-the-art trading Academy. Income Mentor Box is designed to teach people from all walks of life how to trade forex, cryptocurrencies, and the stock market. It consists of a fully comprehensive curriculum, with over 75 full length lessons. Everything is very easy to follow along with thanks to the down-to-earth teacher who makes learning easy. By the end of those 75 lessons, you should be an absolute professional trader.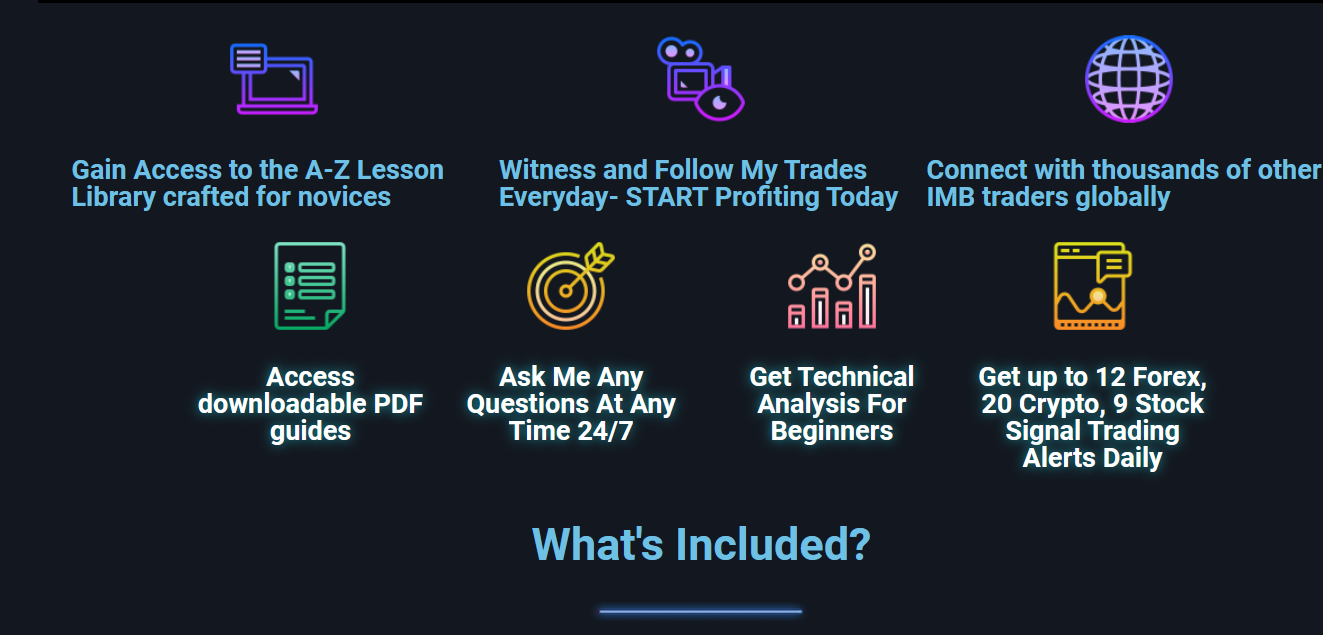 However, what we are really here to focus on today are the trading signals that come to us from Income Mentor Box. When you sign up for Income Mentor Box, with your membership, you also get access to all of these trading signals, which are provided to you over the discord messenger platform. These trading signals come complete with everything you need to make easy trades.
They feature entry points and exit points, along with take profit and stop loss levels. You are also told in which direction to trade, and with which assets. This means that the only thing you really need to do to make profits is to copy and paste the signals as they appear into your broker or trading platform. Right now, we want to take a closer look at just how profitable these Income Mentor Box trading signals are by looking at the profits from last week.
Trading Signals Results – May 08 to May 12
From the 8th to the 12th of May, Income Mentor Box released 28 forex trading signals. Of those 28 signals, 18 of them went on to be profitable winners, three were in the negative, and a few were still pending. At this time, it is safe to assume that those that were still pending, most are now winners.
Whatever the case may be, at the time that this information was released, the profits from these forex trading signals were 700 pips. 700 pips in profits is very impressive, and depending on how much money you invested initially, you could have profited by thousands of dollars.
During that same period, from the 8th to the 12th of May, there were also 23 cryptocurrency signals released. Twelve of those went on to be profitable winners, seven were in the negative, and four were pending.
It might seem like there were a lot of losers this time around for the cryptocurrency trades, which is admittedly true, because usually more of them are winners. However, regardless, the profits were still 152.67%, which is nothing to look down your nose at. If you invested your money wisely, you could have more than doubled your money with these signals.
Making Money with Income Mentor Box  – Final Thoughts
When all that's been said and done, the reality is that if you want to make money trading, then Income Mentor Box  forex, cryptocurrency, and stock market signals are the way to go.
CLICK BELOW TO JOIN IMB 2.0