Profiting with Income Mentor Box 2.0
If you are sick and tired of losing money on the market, then it might be time for you to check out Income Mentor Box 2.0. Income Mentor Box 2.0 is the much newer version of the older Income Mentor Box, which is a state-of-the-art today trading Academy.
Now, for those of you who don't know, the Income Mentor Box trading Academy has been around for several years. In that time, it has managed to help thousands and thousands of newbie trainers become successful professionals in the world of forex, stock markets, and cryptocurrencies. When it comes down to it, this is by far one of the most affordable, efficient, and user-friendly training schools in the world.
As is the case with everything, including both of the market and this trading school, things change. Market conditions have changed and new developments have taken place. For this reason, Income Mentor Box has just been upgraded to Income Mentor Box 2.0. The creators of this awesome day trading Academy spent several months expanding the content, improving the features, and adding additional features that will help put money in your pocket.
Now, besides being just a trading school, there is also a state-of-the-art signals service for many market types, as well as a very advanced indicator. For one very low price, you will get access to all of the tools and skills that you need to start making money in the financial world let's take a closer look at Income Mentor Box 2.0 to see exactly what it can do for you.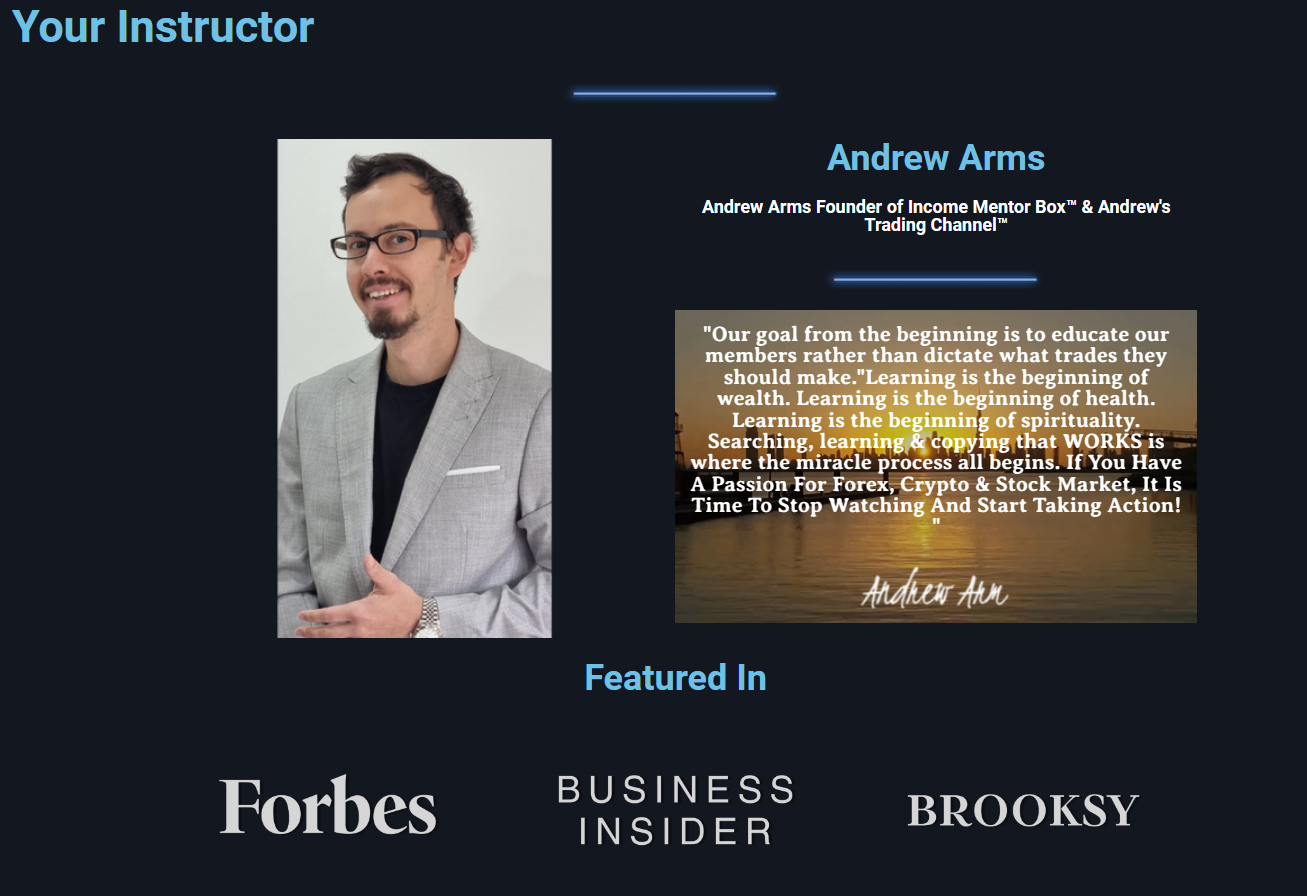 The New Income Mentor Box 2.0 – Trading Lessons
Although the Income Mentor Box 2.0 Academy is technically brand new, it still comes complete with a state-of-the-art trading curriculum. This training curriculum is designed to help newbies become profitable traders by providing them with all the knowledge, tools, and skills they need to be self-sufficient. Here, you will get access to over 75 different trading lessons.
Each of these trading lessons are full length in nature. They come in the form of video format, with the teacher, Andrew, teaching you personally every single time. Furthermore, he explains everything very clearly and then backs everything up with live trading examples and video tutorials so you can see exactly what is going on.
What it comes down to is that by the end of those 75 lessons, you should know absolutely everything there is to know about market trading to be self-sufficient, profitable and self reliant. The main point of this trading school is to turn you into a profitable trader that doesn't need any outside help.
You're going to learn all about charting solutions, indicators, technical and fundamental analysis, day trading, swing trading, intraday trading, oscillators, how to set up trades, how to close trades, how to recognize various market conditions, and so much more. They're quite literally isn't a single thing that you won't learn from this awesome trading school.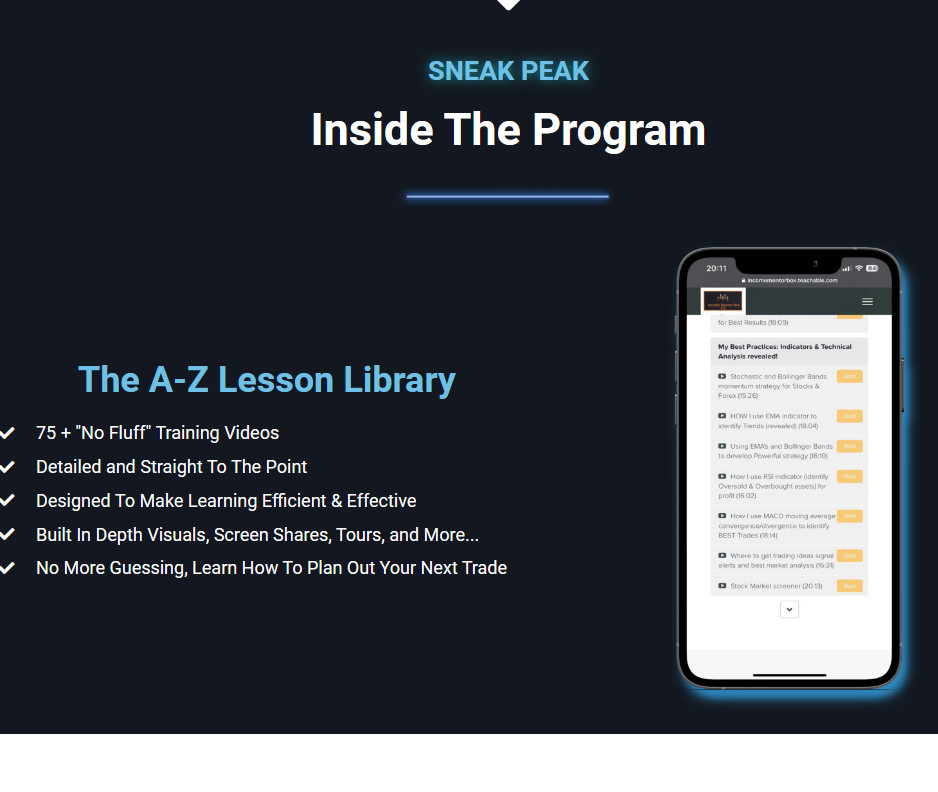 The Discord Channel and Trading Signals
Yet another awesome aspect of the brand new Income Mentor Box 2.0 Academy is that it also comes complete with a discord channel. For those of you who don't know, discord is simply an advanced messaging and communications platform. Within this platform, when you join Income Mentor Box 2.0, you'll get access to a wide variety of resources.
First and foremost, the professional traders and administrators that run the show are going to provide you with Daily News and market updates. You're going to receive all of the newest updates and news about market conditions, new developments, and much more. If it affects markets and trading prices, you will know about it. Furthermore, you'll also get access to a library of the best cryptocurrency trading strategies out there. However, one of the very best aspects is that you will also get trading signals.
The Income Mentor Box 2.0 Academy will provide you with up to 9 stock market trading signals per day, 12 forex trading signals per day, and 20 cryptocurrency trading signals per day. These signals are all very well researched by market professionals and trading experts, and then backed up with state-of-the-art algorithms. These signals are accurate over 90% of the time.
You literally just to copy and paste the signals into your trading platform or broker of choice, and watch as the profits accumulate. These signals come complete with all of the information you need to place trades without actually having to do any work or research. Making money really doesn't get any easier than that.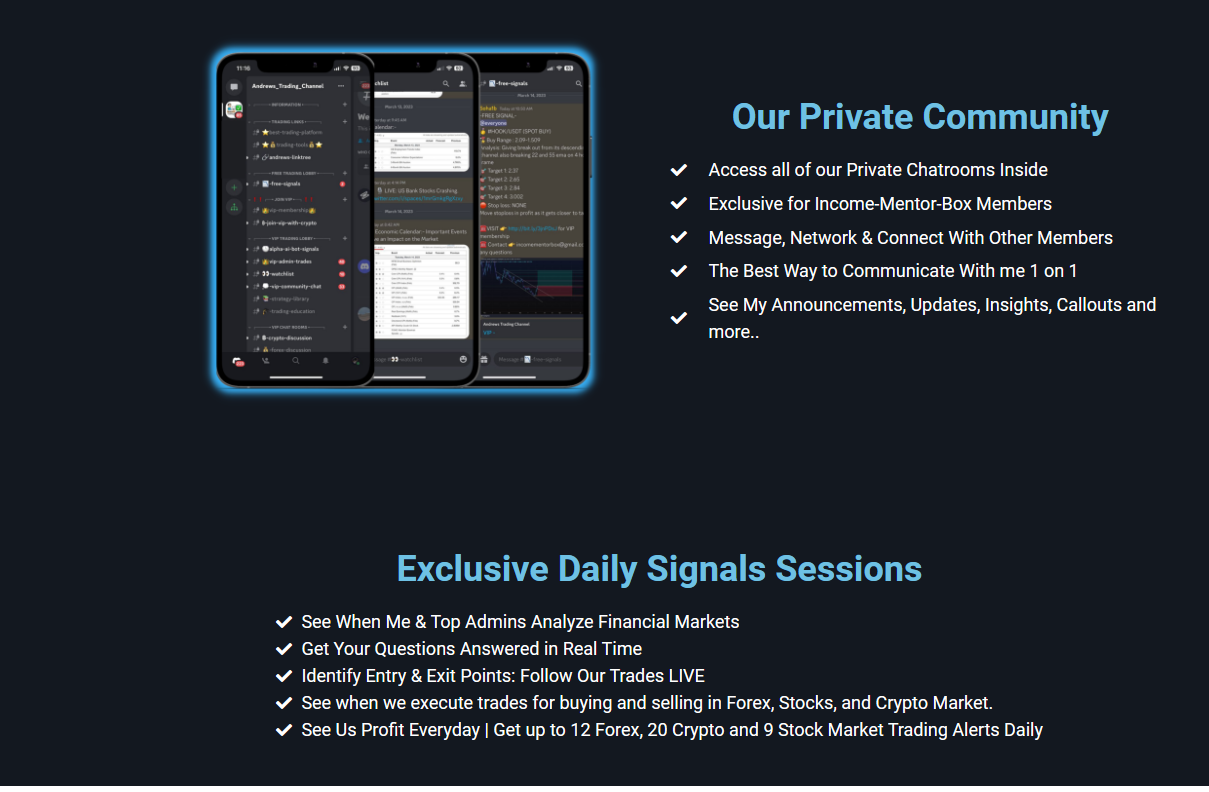 The IMB 2.0 Indicator – The UPSI
The third main component that you get with your membership in the Income Mentor Box 2.0 Academy is the UPSI or Ultimate Profit Scalping Indicator. This is a super advanced and state-of-the-art indicator designed for people who want to make money placing short term trades.
What is really cool about this Ultimate Profit Scalping Indicator is that it comes complete with seven main components, each of which will help you make money on a daily basis in their own ways.
Just some of these components will help you identify both long and short term trends, it identifies support and resistance levels, it tells you in which direction to trade, it can spot wedges, triangles, and more, there is a one click Fibonacci system included, and more.
When it comes down to it, this is by far one of the most advanced and useful indicators out there. If you master using this tool, you should not have to worry about not making profits ever again.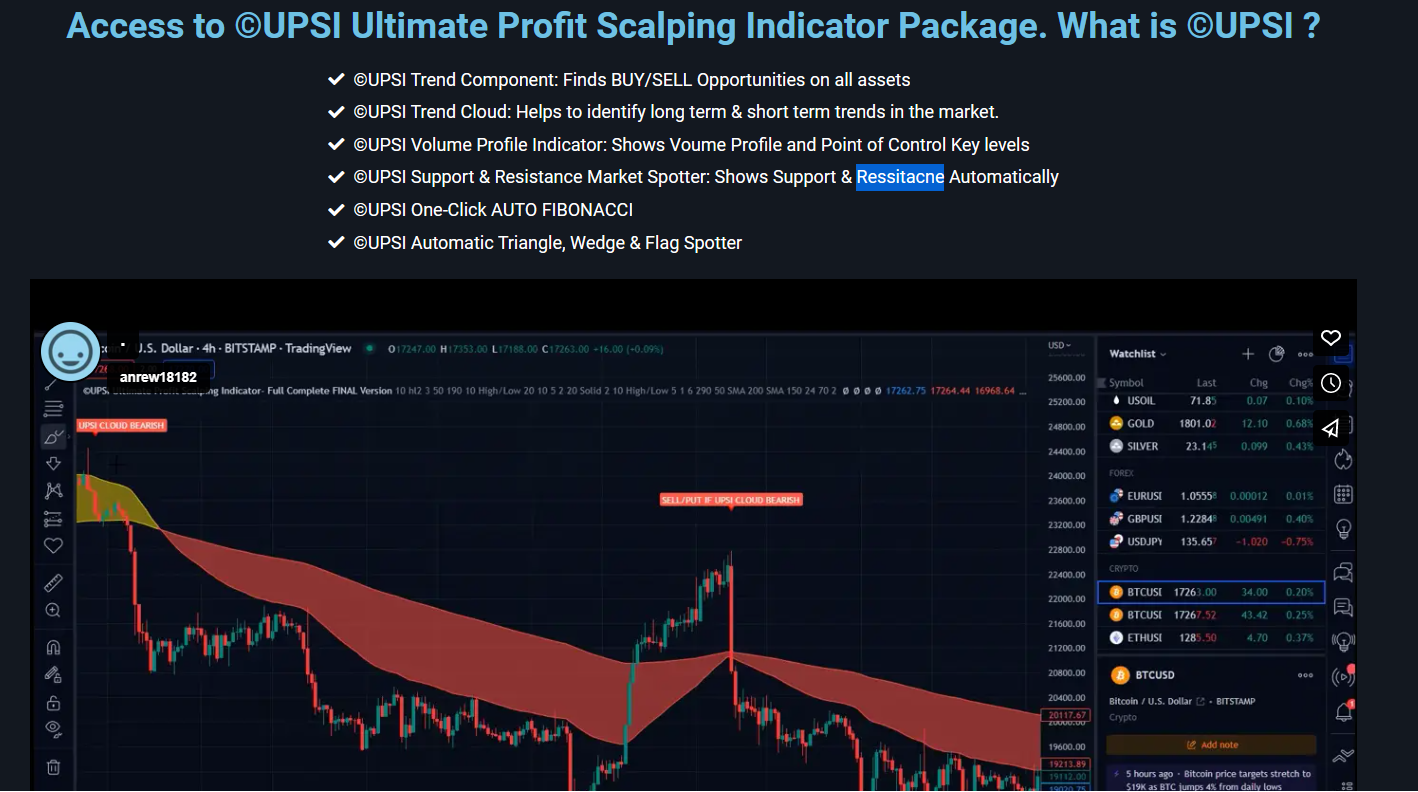 Income Mentor Box 2.0 – Making Money Now!
If you join Income Mentor Box 2.0 right now, you can actually save $150. For a very limited time, there is a $150.00 discount, which means that you can become a full and lifetime member for just $500.00. However, if you wait too long, you may have to pay up to $650, so act soon. When all has been said and done, you can rest assured of one thing, which is that Income Mentor Box 2.0 is by far the best way for you to start making money by trading.
CLICK BELOW TO REGISTER WITH IMB 2.0