The OspreyFX Broker: An Objective Review
If you are new to the world of trading, and are looking for a new broker, you've come to the right place. OspreyFX is a relatively new broker, but it has already made quite the impact on the trading community. Today, we're here to do an objective review of the OspreyFX Broker. Let's see what it brings to the table and what it can do for you.

OspreyFX Broker: The Main Fegatures
Let's take a closer look at all of the main features and benefits that you get by trading with the OspreyFX broker.
Tradable Assets
One of the things that stands out about this particular online broker is the fact that it allows clients to trade with an extremely wide variety of assets. As the name implies, OspreyFX is of course a forex broker. There are actually over 55 different currencies, and pairs that you can trade with.
However, it doesn't end there, because this is also a stock broker too. There are over 100 different stocks that you can trade with. It gets even better, because this is also a cryptocurrency broker, with over 30 different cryptocurrencies that can be traded with. OspreyFX is also a commodities broker.
What you might also like here is that this broker is ideal for newbies due to the fact that it only requires a $10 minimum deposit to open an account. Moreover, you can trade with lot sizes as small as 0.01. Trades can also be leveraged by up to 500 to 1. All in all, we do think that the futures and services provided by this broker are pretty decent.
Trading with MT4
Something that we definitely like about this broker is the fact that it uses MetaTrader 4 as its primary trading platform. Metatrader is of course free to download, so that's not an issue. The reason why we like this so much is because meta trader four is perhaps the most popular, trusted, and reliable trading platform out there.
One of the things that stands out about it is that it allows for social trading, automated trading and, and manual trading. It comes complete with all of the charts and indicators that you could ever need in order to place profitable trades. This particular trading platform is also extremely easy to use and beginner friendly. It's definitely a good starting point for any trading movie out there.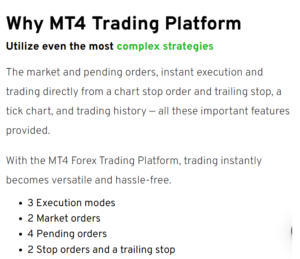 The Forex Calculators
Perhaps one of the neatest things about the OspreyFX broker is that it comes complete with so-called forex calculators. These Forex calculators allow you to gain fantastic insights into the market based on real life and real time conditions. You can perform accurate market evaluations based on a variety of factors to see exactly how you should trade on any given day.
Here, you will get access to a variety of Forex calculators, that use real time scenarios and current market prices. Calculators include a margin calculator, a swaps calculator, currency converter, and a pet value calculator. These things all make it much easier to manage your risk and to place profitable trades.

Funded Accounts
Another super cool thing about the OspreyFX broker is the fact that it comes complete with so-called funded accounts. What this means is that you get to trade with an account that already has money funded answer period in other words, you get to engage in live trading without having to risk your own money. Trading with someone else's money is always ideal, especially if you are a newbie.
Now, because it is someone else's money, you don't get to keep 100% of the profits. However, you get to keep 70% of the profits, all without any risk for you. However, before you can start trading with someone else's money through a funded account, you will need to prove that you are a profitable and consistent trader.
There are two separate demo accounts that you will have to use, each for a full month, and you will have to make at least 10% profit in 30 days on both accounts. Once you prove that you are a good trader, you will then be provided with a funded account. If you don't have a lot of money to trade with, and you don't want much risk either, then these OspreyFX funded accounts are definitely something to look into.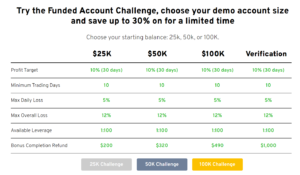 Daily News Updates
You might like how this broker also features Daily News updates. It will keep you up to date on the most important events around the world, all of which will have a big impact on trading. Knowing exactly what is going on in the world is always extremely important before you begin trading on any given day. OspreyFX gives you an access to all of this important information.
CLICK BELOW TO JOIN INCOME MENTOR BOX AND START MAKING REAL PROFITS! 
Free Trading Education
Although it's not a full scale trading course by any means, this broker does provide you with a variety of trading education. What's pretty cool is that this trading education is divided into three separate sections. There is a section for beginners, a section for intermediate traders, and a section for advanced traders. Here you will gain extremely valuable insights and access to some of the best trading strategies that will help make profits on a consistent basis.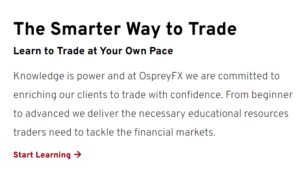 The Affiliate Program
Yes, this broker does also feature an affiliate program. This means that you can refer your friends and family to join this broker. Then, when your friends and family trade with a lot size of at least $10, you will get a percentage of the trade. You get money for every single lot that is generated by your referrals. These commissions are paid out on a weekly basis. This is a multi level program, which means that you will get commissions from the referrals of your referrals too.

AND MUCH MORE!
This broker uses tier one banking to ensure that there is always liquidity available for trading. Your funds are secure, and trades are executed reliably.

OspreyFX features segregated fund accounts. You can choose to hold your money in your own account under your own name, or you can choose to have this broker hold onto your money for you under your name. All of your funds are kept off balance.

This broker features ECN connectivity for flawless execution, high trading volumes, and great spreads. This broker uses only the best of institutional grade liquidity.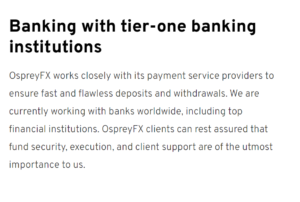 Osprey Broker Review – The Bottom Line
When all has been said and done, the bottom line is that the OspreyFX broker is the real deal. It allows its clients to trade with a wide variety of market assets, it's safe, secure, and reliable, plus you can access those awesome funded accounts too. If you need a good online broker for all of your trading needs, we do recommend taking a closer look at OspreyFX.
CLICK ON IMAGE TO OPEN AN ACCOUNT WITH OSPREYFX
For more trading tips, strategies, methods, and everything in between, check out Andrew's Trading Channel. Here you will find the world's best stock market trading school, a trusted day trading school, state of the art indicators and trading tools, Forex and crypto signals groups, and more!