Trading Rules for Triumph Scalper Software
If you are planning to be successful in the world of Forex trading, then something that you should try doing is using a good tool or indicators such as the triumph scalper. The Triumph Scalper is a brand new trading system that was just released the public, and it has already made a huge impact. If you are a newbie in trading then you definitely want to use an indicator such as this because it will literally tell you what to do and when to do it.
In case you don't know what the triumph scalper indicator is, this is an indicator for Forex that specializes in scalping training. It provides you with profitable forex signals and will tell you to a place, either buy or sell trades. You really don't have to know much or do much of anything in order to make money when using this trading software.
However, with that being said, this is not a foolproof plan to make money. There is never any guarantee. So if you plan on making real profits on a consistent basis with the triumph scalper application, then you absolutely need to follow a specific set of rules and tips. If you want to make money instead of losing it, then you absolutely have to follow the rules and tips for the Triumph scalper app that we are about to set out below.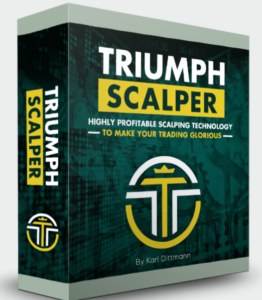 Triumph Scalper Rules for Trading
Right now we are going to provide you with a detailed list of tips that you need to follow if you plan on being successful when using Triumph scalper trading software. If you fail to follow the tips as outlined below, chances are that you will end up losing money instead of making it.
Timeframe Alterations
When using the Triumph scalper trading indicator, one of the biggest mistakes that you can do is to change the time frames or the inputs after a trade has been executed. In other words, once a trade has been placed and is open, you cannot trade the input parameters, especially not the time frames. If you want to change the time frames that you were trading on, you have to do so either before or after trades are placed. Under no circumstances can you change the time frames right in the middle of a trade. If you do change the time frames that you are trading on right in the middle of a trade with Triumph Scalper will most likely fail and you will end up losing money.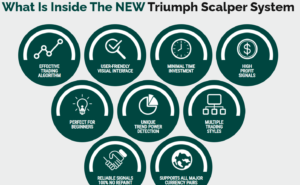 Closing the Scalper App
When you are using triumph scalper software, one of the absolute most important points to keep in mind is that you cannot close the meta trader. Four trading platform completely or close the trading charts. When the Triumph scalper assistant is still attached to it. Never put your computer to sleep or into hibernation mode. While Meta Trader four is open and you have the triumph scalper attached to charts. Moreover, you should also never close any of the trading charts when you have active trades. Always wait for all active trades to closeout before exiting the software.
Using the Demo Account
The next thing that you should keep in mind here is that the triumph scalper application does come complete with a demo account that you can test out free of cost. Yes, this application is extremely easy to use and about as easy to navigate as humanly possible. In fact, this is one of the easiest to use trading indicators for Forex in the world, particularly for newbies who do not know what they are doing. However, with that being said, in order to be a successful Forex trader, you do still need to have some knowledge, which means that testing out the demo account can be extremely helpful because it will allow you to test out the platform itself so you know exactly how it works. This way when you go to trade with real money, you know exactly how the triumph scalper operates, and what you need to do in order to make money.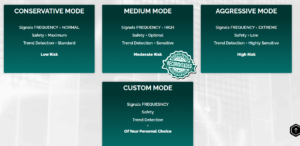 Trading Times
Yet another thing that is important when trading with triumph scalper application is that you can never trade on flat markets, which means that you should never trade it when the markets are very slow. Should only trade with this indicator when the trading hours are ideal, which means that you need to be trading during active trading sessions such as the London sessions and the American sessions. In terms of an actual timeframe, your best bet is to trade between 9:00 AM and 7:00 PM GMT. However, of course, if you do not live in the GMT time zone, you will need to make some calculations to find what the appropriate trading zone for you is. Remember people if you trade during flat market hours, you are most likely going to end up losing money or at least not make very much of it.
Always Check News
The other thing that you need to be aware of here is that before you trade forex on any given day, you should always check for news releases. The simple reality is that news releases can and do have a massive impact on foreign currency values. This is especially true for the very big and important news releases.
In other words, you should never trade with any currency when there is a big time news release on the horizon. Keep in mind that three bull news is very big, two bull news is moderate, and one bull news is not that important. If you see that a specific currency will have either two or three bull news release in the near future, wait until about 30 minutes after the news release has occurred to trade with it.
Triumph Scalper Trading Rules – The Bottom Line
When all has been said and done, if you want to make good money trading Forex, we recommend using the Triumph scalper app. If you follow all of the rules and tips that we have outlined here today, you should have no problems making consistent profits.